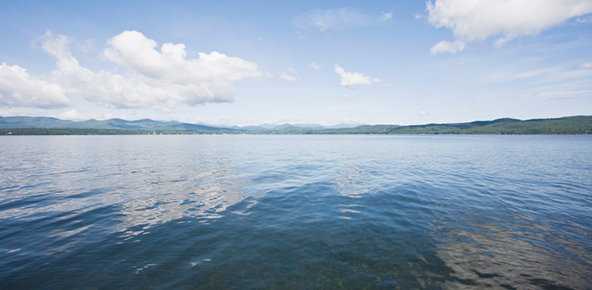 New England Clean Power Link
The New England Clean Power Link is a proposed 1,000 MW High Voltage direct current (HVdc) underwater and underground transmission line that will bring clean, low-cost energy from the U.S.-Canadian border to Vermont and the New England marketplace. Once completed, the project will lower costs for consumers, reduce environmental emissions, create jobs, increase tax revenues, and diversify fuel supply in New England, all while respecting Vermont's natural beauty by burying the lines.
If approved after extensive federal, state and local environmental review, the project will run two six-inch-wide cables an estimated 150 miles, all in Vermont. Approximately 100 miles are proposed to be buried under Lake Champlain and the balance buried underground in existing rights-of-way. The line will end at a converter station to be built at a location in Ludlow, Vermont and connect into the VELCO transmission grid to serve Vermont and the broader New England market.
The $1.2 billion merchant line will be privately financed and will not use taxpayer dollars. The developers of the Clean Power Link are also developing the Champlain Hudson Power Express project.

Federal Energy Regulatory Commission (FERC) Grants Negotiated Rate Authority to New England Clean Power Link
On March 10, 2014, FERC issued an order granting authority to TDI-NE to sell transmission rights on the New England Clean Power Link at negotiated rates. In granting this authority, FERC determined that "TDI-NE will bear all market risks" of the project and will have "no ability to pass on any costs to captive ratepayers." FERC's order authorizes TDI-NE to begin the process of formally soliciting interest in the proposed transmission line from potential customers. No parties filed in opposition to TDI-NE's application for negotiated rate authority. FERC's grant of negotiated rate authority is a significant milestone for TDI-NE and will facilitate commercial operation of the transmission line by 2019.
Seven Days Vermont: Power Play: Developers Race to Run Lines Under Lake Champlain and Beyond
Large hydroelectric dams in the north of Québec are generating energy that is abundant and cheap. New England states and New York are clamoring for clean power that will help meet ambitious goals to cut greenhouse-gas emissions.
TDI New England Requests Authority to Sell Transmission Rights at Negotiated Rates for the New England Clean Power Link
TDI New England today announced that it has filed an application with the Federal Energy Regulatory Commission (FERC) seeking authorization to sell transmission rights on the proposed New England Clean Power Link transmission project at negotiated market rates. The FERC filing is available
here
.
Innovative New Clean Energy Transmission Line Proposed for Vermont
The development of a new, completely buried power transmission project called the New England Clean Power Link was announced today by TDI New England. The proposed project would run from the Canadian border to Ludlow, Vermont, and deliver 1,000 MW of clean, renewable hydropower to the New England marketplace.
Burlington Free Press: Hydropower line proposed
By 2019, two 6-inch-wide cables would extend 150 miles from Quebec under Lake Champlain and across land to Ludlow, carrying 1,000 megawatts of hydro-electric power, according to an announcement Wednesday by TDI New England.
Associated Press: Firm seeks Vt. power line under Lake Champlain
A New York company announced Thursday it hopes to build a 150-mile power line from the Canadian border under Lake Champlain and then across Vermont to the town of Ludlow where it would connect to the New England electric grid.