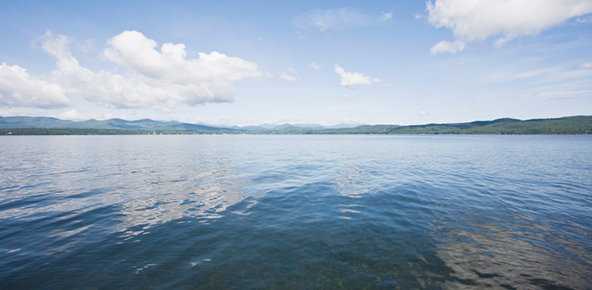 New England Clean Power Link
The New England Clean Power Link is a proposed 1,000 MW High Voltage direct current (HVdc) underwater and underground transmission cable that will bring clean, low-cost energy from the U.S.-Canadian border to Vermont and the New England marketplace. Once completed, the project will lower costs for consumers, reduce environmental emissions, create jobs, increase tax revenues, and diversify fuel supply in New England, all while respecting Vermontís natural beauty by burying the cable.
If approved after extensive federal, state and local environmental review, the project will run two six-inch-wide cables an estimated 150 miles, all in Vermont. Approximately 100 miles are proposed to be buried under Lake Champlain and the balance buried underground in existing rights-of-way. The line will end at a converter station to be built at a location in Ludlow, Vermont and connect into the VELCO transmission grid to serve Vermont and the broader New England market.
The $1.2 billion merchant line will be privately financed and will not use taxpayer dollars. The developers of the Clean Power Link are also developing the Champlain Hudson Power Express project.

U.S. Department of Energy Issues Final Environmental Impact Statement for the New England Clean Power Link Project
The issuance of the Final Environment Impact Statement concludes the review of the projectís potential environmental impacts mandated by the National Environmental Policy Act and enables the DOE to render a decision on the application for a Presidential Permit for the project.
TDI New England Commences Open Solicitation for Transmission Capacity on the New England Clean Power Link Project
The Open Solicitation process for transmission capacity on the New England Clean Power Link project has commenced and will run from October 15, 2015 to December 4, 2015.
Vermont Agency of Natural Resources Opens Public Comment Period
The Vermont Agency of Natural Resources has sent out public notices for eight environmental applications filed by TDI-NE. The notice starts the public comment period which will end on November 6. As part of this process, public hearings will be held by the State on November 2 in Rutland, November 3 in Burlington and November 4 in St. Albans. In addition, the notice contains draft permits for the 401 Water Quality Certificate and the Construction Stormwater Permit.
Union Leader: Buried line puts New England Clean Power Link plan on fast track
The federal Department of Energy on Thursday recommended that a high-voltage power line to transmit electricity from Quebec be granted a presidential permit.
VT Digger: Feds Issue Final EIS For Transmission Line Beneath Lake Champlain
The U.S. Department of Energy on Thursday issued its final environmental impact statement for a 154-mile high-voltage transmission line that would run beneath Lake Champlain.
Worcester Telegram: Dean backs Baker in applauding hydropower mix
Former Vermont governor and Democratic National Committee Chairman Howard Dean on Wednesday supported Gov. Charlie Baker's push to import large-scale hydropower to Massachusetts, calling the governor's approach "groundbreaking."