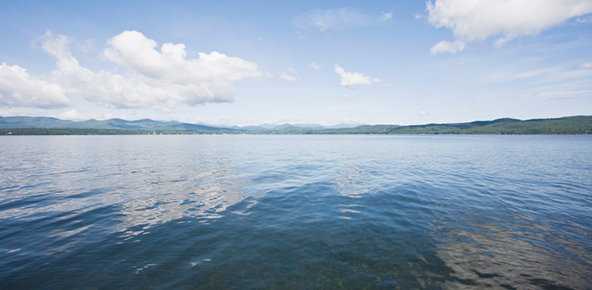 New England Clean Power Link
The New England Clean Power Link is a proposed 1,000 MW High Voltage direct current (HVdc) underwater and underground transmission cable that will bring clean, low-cost energy from the U.S.-Canadian border to Vermont and the New England marketplace. Once completed, the project will lower costs for consumers, reduce environmental emissions, create jobs, increase tax revenues, and diversify fuel supply in New England, all while respecting Vermontís natural beauty by burying the cable.
If approved after extensive federal, state and local environmental review, the project will run two six-inch-wide cables an estimated 150 miles, all in Vermont. Approximately 100 miles are proposed to be buried under Lake Champlain and the balance buried underground in existing rights-of-way. The line will end at a converter station to be built at a location in Ludlow, Vermont and connect into the VELCO transmission grid to serve Vermont and the broader New England market.
The $1.2 billion merchant line will be privately financed and will not use taxpayer dollars. The developers of the Clean Power Link are also developing the Champlain Hudson Power Express project.

TDI New England Files State Permit Application For The New England Clean Power Link
TDI New England has filed a state permit application seeking approval of its proposed New England Clean Power Link project. The application states that the project, once completed, will provide $136 million in ratepayer relief for Vermonters as part of a total public benefits package of $298 million. Over the 40 year life of the project, TDI estimates the project will create approximately $1.5 billion total economic benefits to the State and its residents.
TDI New England Files Application With the Army Corps of Engineers
TDI New England announced that the company has filed an application with the Army Corps of Engineers so the Corps can begin reviewing the New England Clean Power Link project.
TDI New England Submits Pre-Application 45 Day Notice of Section 248 Petition
As required under Vermont law and Public Service Board rules, TDI-NE has issued the ď45-dayĒ notice to host towns that it intends to file a Section 248 Petition with the Vermont Public Service Board in 45 days. The notice provides a description of the project and summarizes the Projectís benefits and evaluation of impacts. Preliminary project maps and plans are included with the notice.
The Barre Montpelier Times Argus: Ludlow endorses $1.2B power line
Local leaders are endorsing a $1.2 billion hydropower transmission line proposed to run from the Canadian border to a planned $200 million converter station in town.
Associated Press: Plan takes shape for power line under lake
With permits to build an underwater and underground power line from the Canadian border to New York City all but fully in hand, the developer is turning its attention to a similar proposal for a 1,000-megawatt power line that would run down Lake Champlain and then across Vermont to feed the New England electric grid.
Department of Energy Announces Environmental Review for the New England Clean Power Link
TDI New England announced today that the United States Department of Energy (DOE) has issued a Notice of Intent (NOI) to prepare an environmental impact statement (EIS) to assess the potential environmental impacts of the proposed New England Clean Power Link transmission project.
New England Clean Power Link to Create Thousands of Jobs and Spur Millions in New Economic Activity
A new study estimates the proposed transmission project would save New England customers approximately $2 billion over the first 10 years of operation, create approximately 2,000 jobs and generate $400 million annually in new economic activity.